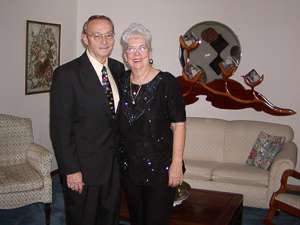 We hope you enjoy these studies and we are so grateful for your visit.
When Jim Mays taught from the Bible, he was careful to follow the pattern given in Nehemiah 8:8 "They read from the book of the Law, making it clear and giving the meaning so the people could understand the meaning of what was being read."
He knew the English language so well he could explain the Scriptures in simple terms, and felt this was the duty of a good teacher.
He was not one to fill the air with a lot of fluffy words because he remembered Solomon's admonition - "The more the words, the less the meaning." He also remembered the results of Nehemiah's teaching found a few verses later, "... the people went away ... with great joy, because they now understood the words that had been made known to them." You will find as you study with him, he refrains from using big words just as the teachers of old did in the above scripture.
He would often say the safest way to interpret the scriptures is to use other scriptures. You will find these studies contain a minimum of his words and lots of scriptures. He also typed out the scriptures for you because he knew it's easy to overlook the actual words if he just put "Nehemiah 8:8," for example.
Jim would be so pleased to have you as a student.
Jim graduated from the University of Florida in 1961 with a BA in Education. He has been a Bible student and teacher for more than forty five years. He loved the Word of God and loved to share it with others.
"Let your eyes look straight ahead; fix your gaze directly before you. Give careful thought to the paths for your feet and be steadfast in all your ways. Do not turn to the right or the left; keep your foot from evil." ~Proverbs 4:25-27"